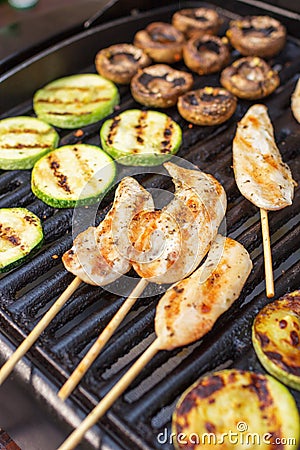 Płyty grillowe przeznaczone są do beztłuszczowego grillowania lub smażenia mięsa na powierzchniach gładkich albo ryflowanych. Smażone produkty nie przywierają do powierzchni i są bardzo łatwe w utrzymaniu czystości.
Płyty grillowe przypominają swym wyglądem małe kuchenki i dokładnie taką rolę mają spełniać. W profesjonalnej gastronomii, gdzie liczy się każda minuta, więc urządzenia muszą być sprawne i proste w obsłudze. Jeśli chodzi o płyty grillowe to ich konstrukcja i zasada działania gwarantuje przygotowanie potraw najwyższej jakości i na czas. Płyty grillowe możemy podzielić na dwa rodzaje: gazowe i elektryczne. Sposób działania urządzeń na prąd nie trzeba wnikliwie tłumaczyć ? wystarczy jedynie podłączyć kontakt do gniazdka i jest gotowy do użycia. Nieco inaczej jest urządzeniami gazowymi. Płyta grillowa gazowa może być bowiem podłączona do gazu ziemnego lub gazu propan/butan. Wszystko zależy od tego jakim przyłączem dysponujemy. Konieczność bezpiecznego dostarczenia gazu do płyty grillowej wiąże się z doprowadzeniem rury, uszczelnieniem jej i przejściem weryfikacji przez inspekcję sanitarną. Różnić w działaniu płyty grillowej gazowej i elektrycznej w zasadzie nie ma ? oprócz sposobu ich zasilania.
Do czego przydadzą nam się płyty grillowe? Będzie ona idealna do wszelkiego rodzaju mięs, zaczynając od karkówki, wołowiny, a kończąc na drobiu i kiełbasie. Bardzo dobrze sprawdzi się w przygotowaniu grillowanej ryby, warzyw, owoców morza. Na płytach grillowych można przygotować w zasadzie wszystko, bo z powodzeniem zastępuje kuchenkę, mikrofalę, a przede wszystkim zwykłego drzewnego grilla. Płyty grillowe cechują się bardzo wysoką mocą, połączoną ze świetną wydajnością. Urządzenia tego typu zostały wyprodukowane ze stali szlachetnej, która nie szkodzi zdrowiu i przygotowywanym potrawom. Płyty grillowe łatwo się obsługuje, posiadają nowoczesne termostaty i idealny wygląd pasujący do każdej gastronomii.
Każde urządzenie posiada jakieś wady. Oprócz przyłączy jest to konieczność zainwestowania sporych pieniędzy, ponieważ płyty grillowe nie należą do tanich. Mogą się zdarzyć pojedyncze felerne egzemplarze, które nie będą przykładowo dobrze się nagrzewać. Zakup płyt grillowych jest bardzo dobrym pomysłem dla dużych i małych gastronomii, ponieważ wzbogaca kuchnię i ułatwia pracę kucharzy. Płyty grillowe bardzo chętnie wykorzystywane są przez specjalistów na całym świecie, a coraz częściej można je spotkać w domowych kuchniach. Dzięki swojej prostocie działania, funkcjonalności oraz wygodzie, płyty grillowe to doskonały pomysł na inwestycję do swojej działalności gastronomicznej, a także do domu.